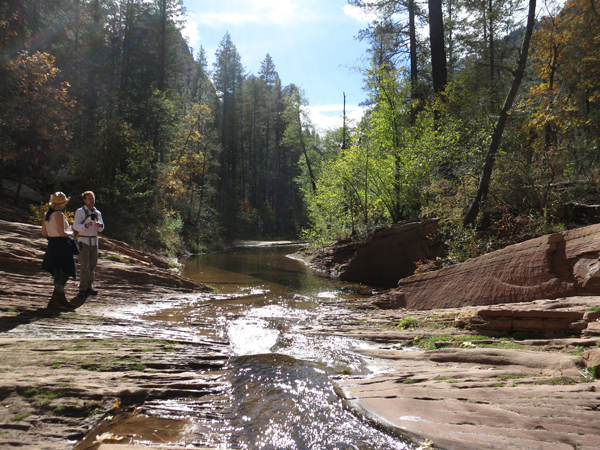 Known for its red rocks, art galleries, and new-age vibes—there are psychics and aura- readers on every corner, Scout's honor—Sedona is a mystical spot like nowhere else on earth. We explored the town recently; Where to Stay in Sedona
.
The Hilton Sedona Golf Resort and Spa is a perfect mix of convenience, chic Western style (look for the lobby's cowhide-covered stools), and luxe perks. On a hill overlooking the red rocks, the property has 219 guest rooms and guest suites.
Decorated with kiln-dried Adler Wood Furniture from Mexico, each cozy room has its own gas fireplace, microwave and wet bar, and private balcony or patio. Our bathroom was stocked with deliciously scented Crabtree and Evelyn products and had the perk most hotels forget about: a shower sponge (score!). We had sweet desert dreams in the wrought iron bed, made extra plush and snuggly with the Hilton Serenity Collection Bedding.
The hotel also has an 18-hole golf course, the rugged Southwestern eatery Grille at ShadowRock, three swimming pools, and a poolside café. At the 25,000-square-foot fitness center and spa, Eforea, services take on a uniquely Sedona spin. Called "Healing Journeys," facials and massages are combined with energy healing treatments, and the fitness classes include Kundalini yoga, Tai Chi flow, and Qi Gong.