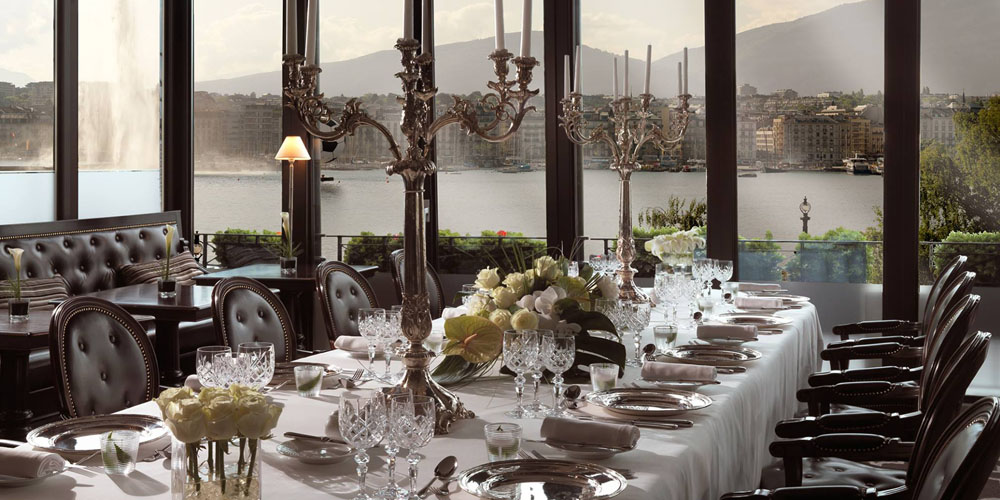 Geneva, the gorgeous French-speaking part of Switzerland is always ranked in the top spots on any most-expensive-city list. Here, we take you on a tour of where to stay, eat, and what to discover when you visit the glamorous city.
1. Stay at Hôtel Royal
If you're looking for a perfectly traditional French hotel in Geneva, then you've found it with Hôtel Royal. The 4-star hotel boasts 202 guest rooms and suites and has an incredible location in the heart of the city. We stayed at the luxurious executive suite, with over 370 sq. ft. of traditional French bliss including a private bedroom with a master bathroom (featuring a jet tub), kitchen, and separate living space. We had a small balcony where we could look out at the bustling street. But what we loved most? The location. We were steps from restaurants, shops, and Lake Geneva.
Looking for something less traditional? The Manotel Group has five other hotels all uniquely renovated. N'vY (previously Epsom) has a cool, artsy vibe. Hotel Auteuil is an urban lover's dream with its modern design. Hotel Kipling is the hotel of choice if you're looking for an exotic retreat. Hotel Jade was designed to give Feng Shui lovers the perfect getaway. Hotel Edelweiss is where you will get that mountain experience with its Swiss chalet style.
Hôtel Royal
41, rue de Lausanne
CH-1201 Genève
www.manotel.com
2. Walk the Geneva Lakefront
Geneva's lakefront is definitely a stunning place to spend time. As you stroll, you won't be able to miss Geneva's most famous water fountain and landmark, le Jet d'eau which delves out 500 liters of water per second at 140 meters high. Another great way to enjoy the gorgeous lakefront is to take a Geneva Boat tour. We enjoyed a one-hour cruise and took in all of the beauty that Geneva has to offer including famous villas, monuments, and gorgeous parks and gardens.
3. Old Town
We spent hours walking Geneva's historic Old Town. As we took in over 2,000 years of history, we loved seeing the vibrancy of the modern-day shops, art galleries, restaurants, and museums. Stop at the Cathédrale St. Pierre (Place Bourg-Saint-Pierre 1204, Geneva) and climb the 157 steps to the top towers to take in 360° panoramic views of the city. Visit La Treille park, where the longest bench in the world is. Created in 1767 and made of 180 wooden boards, it's 120 meters long and overlooks the Bastions park. There you will also find the tree that signals when Geneva officially declares spring every year once it gets its first leaf. For lunch, try out the bubbling cheese fondue as Bill and Hillary Rodham Clinton did during a visit to Restaurant les Armures (1, rue du Soleil-Levant) in 1994.
4. English Garden
To enjoy a bit of relaxing downtime in Geneva, be sure to visit the Jardin Anglais or English Garden just east of Old Town. The Flower Clock is a must-see. It's made from over 6,000 flowers, measuring over 16 feet, and actually functions!
5. SWATCH Exhibitions
Switzerland is known for its watchmaking skills – both with exquisite luxury, as well as fun, affordable watches. This next museum showcases the latter. Swatch is known the world over for their cool wristwear, so check out Cité du Temps, where you will find the only permanent exhibit worldwide of Swatch watches from 1982 to the present.
Cité du Temps SA
CH-1204 Geneva
www.citedutemps.com
6. Eat at Restaurant Windows at Hotel d'Angleterre
Hotel d'Angleterre is one of Geneva's premier 5-star hotels, and if you get the chance to enjoy a decadent dinner at Restaurant Windows, you will truly have an amazing gastronomic experience that will give you memories for years to come. First off, the stunning view of the lake and mountains are incredible, but not to be outdone by the meals prepared by Executive Chef Philippe Audonnet. As we took in the views with plenty of perfectly paired champagne, we started our meal with some pretty spectacular dishes like Bea's eggs Royal (free-range eggs and potted shrimps, smoked salmon and caviar) and the Duet of duck foie gras (diced with smoked duck fillet and poached in spicy wine). For your main course, may we suggest two of our favorite specialties—Dublin prawns marinated with "piment d'espelette" and grué Lemongrass and chocolate sauce, red peppers gnocchis and radish or if you're a meat and seafood lover, the Deer fillet stuffed with lobster, truffle sauce and mashed chervil roots is a perfect choice. After dinner, we chose an assortment of scrumptious cheeses from Switzerland, France, and the UK before delving into dessert. May we point out that there was so much to choose from —Milk Chocolate and Coriander Mousse, Pineapple and Kaffir lime soufflé, and even an American Cheesecake ought to tantalize your palate. As we said, this is one of those dinners that we will never forget and if you go to Geneva, make it your number one dining destination.
*Photos by Henrique Kerch, Geneva Lakefront photo courtesy of Geneva Tourism, Hôtel Royal Photo courtesy of Hôtel Royal, Featured Photo: Restaurant Windows Photo courtesy of Hotel d'Angleterre