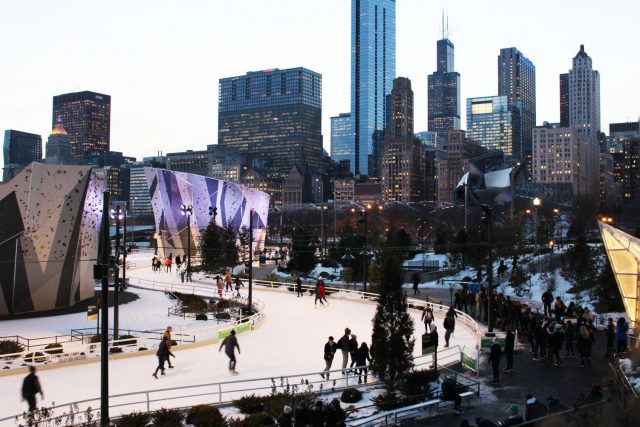 What better way to enjoy winter in Chicago than with a favorite winter pastime like ice skating? Here are our best ice skating rinks in Chicago—and many of them are free!
Maggie Daley Park Ice Skating Ribbon
Breakaway from the usual ice skating rinks and skate in what almost feels like a river in a forest at Maggie Daley Park's Ice Skating Ribbon, albeit this one is in the middle of the city.
Rates and hours
Millennium Park, McCormick Tribune Ice Rink
Just off Michigan Avenue is the perfect backdrop with Chicago's iconic Bean (Could Gate).
Rates and hours
The Peninsula Sky Rink
The perfect setting is high above Michigan Avenue. Atop the Peninsula Hotel, this rink has all of the comforts you would expect from a five-star hotel from unique hot chocolate blends, hot cider, and other snacks.
Rates and hours
Warren Park Ice Skating Rink
If you feel a bit adventurous and want to explore some of Chicago neighborhoods, then head north to Warren Park for a no-frills ice rink. On 90 acres, this park also has one of our favorite hills for sledding.
Rates and hours
While you are in Chicago, check out 10 things everyone has to do. There's so much to experience in summer as well as winter! Also, free is always good so don't miss Chicago museum free days. Some of our favorite immersive museums to visit besides the Shedd Aquarium, Museum of Contemporary Art and the Art Institute include the wndr Museum, and Hebru Brantley's Nevermore Park in Pilsen.