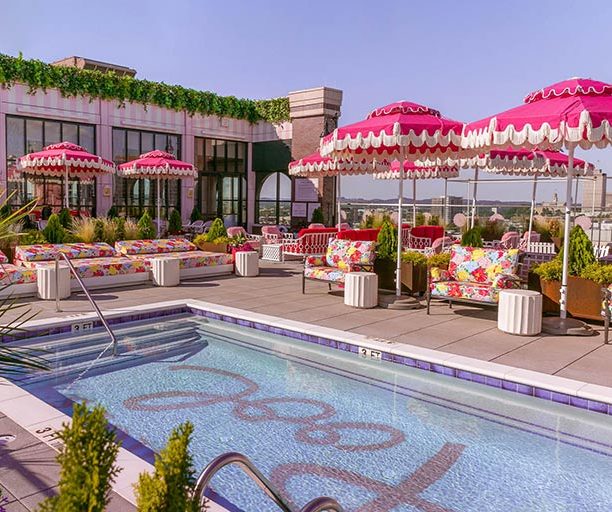 Music City has a new pretty-in-pink hotel to stay at just a quick jaunt from Vanderbilt University. The 12-story, 205-room hotel is located in Midtown on West End Avenue and is nearby attractions such as the Nashville Zoo, Parthenon, and Belle Meade Plantation.
The 4-star Graduate Nashville boasts a fabulous indoor-outdoor rooftop deck with beautiful skyline views dubbed the White Limozeen. "Inspired by Music City greats who moved to Nashville to chase their dreams, White Limozeen is a celebration of the nonconformists that have always done it their own way. It's unique, beyond special, and tells the narrative of a relentless, rags-to-riches journey. Whether you are playing for tips on a stool on 16th Avenue, selling out Nissan Stadium, or just stopping by for a cocktail, this will be an unforgettable experience for everyone," said Graduate Hotels CEO and Founder Ben Weprin.
Poindexter should be your first stop for breakfast or coffee, although you may want to spend the day in the beautiful space. If you're in the mood for karaoke, venture to the not-to-be-missed watering hole, Cross-Eyed Critters.
To learn more about Graduate Nashville, visit graduatehotels.com/nashville.