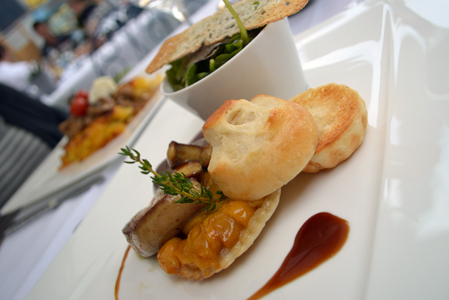 Zurich Restaurants Guide is a compilation of the places I ate at while spending a few days in this great city. You would expect that someone coming from Chicago has access to top restaurants and the best chefs with a large variety of international dining experiences, but nothing compares to trying local dishes when you're traveling.
Check out my "Zurich Restaurants Guide" for local cuisine from this very international city.
Restaurant Zum Kropf
This restaurant was the first we experienced in the city. What we really loved about it was the history. It belonged to Lienhart, a city gunsmith until 1462, thereafter, Zürich's mayor Johann Heinrich Kilchsperger (1785-1798) lived in the house. Up until the end of the nineteenth century, it was a private residence. It was the perfect place for our first stop since the cuisine is typical Zürich and Bavarian-style. We definitely went traditional and picked the chopped veal Zürich style with roesti. ?In Gassen 16, 8001 Zürich
(zumkropf.com)
Zunfthaus zur Waag
Another one of our favorite restaurants with incredible history as it was built in 1315. Located in the historic old town, you will enjoy more Zürich traditional specialties like Zürcher Geschnetzeltes (sliced veal in gravy) with Butterrosti (potato pancakes), fresh fish fillets, and even a famous chocolate mousse for dessert.
Münsterhof 8 8001 Zürich, Switzerland
(zunfthaus-zur-waag.ch)
Le Dezaley
If fondue is what you're looking for, we enjoyed our fair share of fondue in Zurich's historic Old Town at Le Dezaley (le-dezaley.ch) and Restaurant Swiss Chuchi (hotel-adler.ch). At Le Dezaley, we had a great Fleisch fondue. The meats are fried in hot oil at your table and combined with a nice platter of rice and various sauces. At the Restaurant Swiss Chuchi, you can't really forget the strong smell of cheese and the atmosphere made a perfect occasion for cheese and champignon fondue.
Culinary Tip:
Make a traditional Zurich style veal recipe at home! Main dish for 4 people:

Veal shank, diced 600 g
Veal kidney (optional) 150 g
Flour 20 g
Peanut oil 2 cl
Herbal salt mixture for meat 4 g
Butter 20 g
One Onion, finely chopped
1 White mushroom 200 g
White wine 4 cl
Cream 2.5 dl
Glace de viande (meat extract) 40 g
Waxy potatoes 1.2 kg
Salt and pepper from the mill for seasoning
Stiff whipped cream for decoration

Meat and sauce

Dust the diced veal with the flour and brown in the hot peanut oil. Remove from the oil, then fry the kidney very briefly, cover both and keep warm.

Place the onion and the butter in the pan and fry lightly. Add the sliced mushrooms and sauté briefly. Remove the mushrooms and keep them warm. Deglaze the pan with the white wine and reduce. Pour in the cream and the glace de viande and bring to a boil, reducing slightly. Add salt and pepper to taste. Add the diced veal, the kidney and the mushrooms and simmer briefly. Rösti Parboil the potatoes the previous day, making sure not to allow them to become too soft. Peel and grate with the coarse grater. Heat the butter in the frying pan, add the grated potatoes, shape, press into form and season with salt. Fry over a low heat until a golden yellow curst has formed on one side. Turn the rösti and finish frying in the covered pan.

Serve the rösti and the meat, decorate as desired with stiff whipped cream.