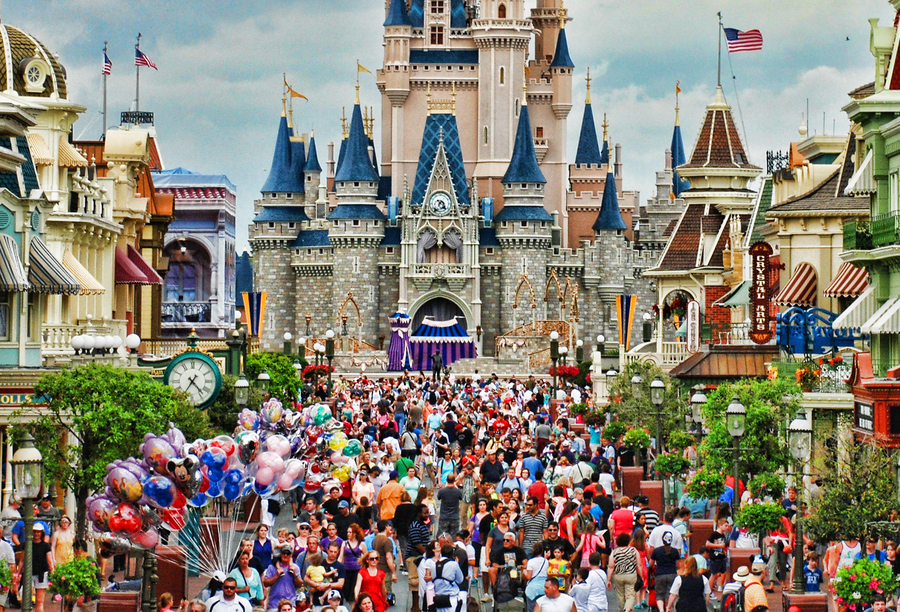 We decided to venture off to the theme park capital of the world for spring break this year. Maybe I was crazy to go during the busiest time of the year (where the lines for the 10 minute ride were just over 100 minutes of wait time) and not to mention the number of strollers (including two of my own). But if you read this and do these tips, I think you will survive the parks, making your theme park trip a bit easier during the high season.
We are a family with three kids, ages nine, three, and just two months old, and with my in-laws and their 13-year-old, we needed to cover a lot of demographics. Here are nine tips for surviving theme parks in Orlando during the high season.

1. Go Online
Check out all of the parks you are planning to go to and just explore. See offers, park hours, special events, even explore the map. Get your tickets online. Many people forget this or don't have time, but this can save you some money and pack in some benefits during your day.
You can print your tickets at home before your trip or at your hotel (if you forgot), or you can have them printed at the will call once you get to the park (although this could waste some valuable time).
2. Driving Vs. the Hotel Courtesy Bus
I had this conversation with my wife, and we both agreed that having a car is the best if you're traveling with very small children, even if it's more expensive. You can schedule and move at your own pace, make any unexpected stops along the way (like buying diapers), and have less stress along the way, which is sometimes worth paying a little extra for peace of mind. The courtesy bus is best for families where children are school-aged or groups of people that can manage time better to get to the bus at their designated times and stops. It is a money saver for sure since you won't be paying for parking, gas, or tollways along the way.
3. Tickets
Since I am sure you got them online, you can read some benefits once you are at the park gate. For example, at Universal Studios for this last spring break, we bought two days and got one free, and on top of that, we could hop from park to park for free. Nice perk, especially if you're planning to go for three days. We suggest printing your tickets before you get to the park to skip the lines.
Park tickets for Disney can be expensive, especially if you have a big family, so think about getting one day with the park hopper option. This is what we did. Check out the park hours during busy times like spring break because usually, the parks are closing at 10 p.m. (regular hours), but during spring break, Magic Kingdom closed at 1 a.m. To navigate Disney during the busiest time of year, we first checked out the park and saw wait times from 80 minutes to 120 minutes, which is killer for the kids, so we went to Epcot, which was less busy and enjoyable. Then we came back to Magic Kingdom around 9 p.m., and all the lines were cleared, and we had a great time!
4. At the Park
At Disney, be sure to check out the express passes. They are free and good, but you need to keep track of time. At Universal Studios, the express passes cost almost as much as another ticket. If you don't want to go that route, here's how to make your regular ticket work like magic for Islands of Adventure. Go very early (as soon as the park opens) and do all of the other rides first, except Harry Potter. Yes, save Potter for later in the night because everyone is rushing to that first thing in the morning, and lines are extraordinarily long. It's the best ride at Universal, and the line moves much faster later in the night or at lunchtime. And don't forget to try the Butterbeer!
5. Food
There is no way around it. Eating at the parks is extremely pricey (think about $50 for three people for lunch since my toddler doesn't eat much).
Sea World has an all you can eat all day pass for about $30 per person, which is not a bad deal if you have super-hungry teens. We suggest getting the take-home cups you can refill for .99, which are available at all parks. The initial buy is around $8, and for the refill cost, you can bring it back day after day. We usually aren't big on sugary sodas, but having to walk several miles at the parks in a day, you will get thirsty, which is the best deal.
6. Child Swap
Traveling with the small ones is challenging, especially if you and your partner want to ride the rides. "Child Swap" is brilliant because most rides offer this option, which will save you time, and everyone can all enjoy and have a good time. Plus, the older kids will love it because they will get to do the ride twice. Not too shabby.
7. Single Rider
I learned this from my brother-in-law when he mentioned that we should do the single riders line because we'll get through faster. I was unsure about it since we are a group doing the 40 or 60 plus minute line, quality time spent, things to talk about…Well, I think it was the best advice I got that day. We are still in a group (we often got to ride together, shhhh), maybe riding the same train or just in the back seat, but the line goes five to ten times faster and gives you the chance to do this as many times as you want for your favorite ride.
8. Capture Memories
Capturing memories is very important! Don't forget to get your memories with your camera or phone. Many times some of these memories are never going to repeat again. Also, I have an iPhone, and as you know, if you're taking pictures with it most of the day, plus texting, emailing, etc.…your battery will be gone in no time. I'd suggest getting a battery pack at any big box store like Best Buy because the chances that you are going to have to recharge your phone will be some time around 2 p.m., and if the park closes at 10 p.m., you have several hours to go and memories not to miss. Not to mention, if you split up, you're going to need your phone to catch up with one another. Some battery packs will go for about $60, and they can give you two full charges for your phone. There are also lower-priced options that can give you one charge. The best part is you can just plug it into your cell phone and leave it charging in your backpack while you keep walking to your next ride.
9. Packing
This depends on you, but may we suggest packing lightly. I was able to talk my wife (who loves fashion) into just taking one large suitcase for everyone, and we were glad we did. The second tip is to be sure to bring comfortable clothes and shoes. I've seen people with high heels at the park, and I'm not sure how long they can walk with them, but some comfortable shoes are the way to go. I'm not a fan of Flip Flops since you might need to take them off for the rides (or they could fall off). Keep in mind that you may get wet if you do some of those rides, and if it is a cold day, you might want to think about bringing an extra shirt.