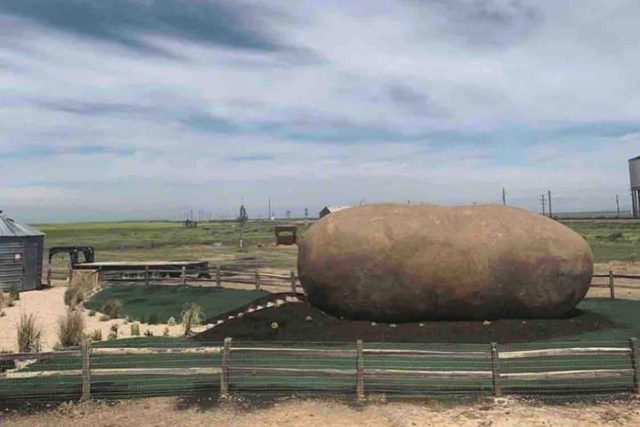 If you're looking for a unique place to stay this summer, then you aren't alone. We often find ourselves wanting to get out of dodge and visit a brand new place, gaining a new perspective while immersing ourselves in nature and staying somewhere a bit well, unconventional. If you're looking for a new place to explore too, check out the Big Idaho Potato Hotel. It's the anything-but-normal place we need to get excited about travel. There's plenty of things to see and do in Boise, Idaho, including checking out the Basque Museum & Cultural Center, visiting the Idaho State Capitol, and Boise Art Museum.
The Big Idaho Potato Hotel is basically a six-ton replica of Idaho's famous Russet potato. It looks like a basic potato from the outside, but it is an entirely gorgeous renovated space on the inside! Let's take a look at the interesting digs, shall we?
The Big Idaho Potato Hotel was formerly on the road for a seven-year tour with the Idaho Potato Commission's Big Idaho Potato Tour for the 75th-anniversary celebration. Before laying roots down on a farm and becoming a unique Airbnb stay, the 28-foot by 12-foot wide by 11.5-foot tall potato traveled by semi to 48 states! Now you can experience this memorable stay for yourself on a 400-acre farm with some pretty stunning views of the Owyhee Mountains. It is located just 20 minutes south of downtown Boise, Idaho, and was designed by Kristie Wolfe, the Big Idaho Potato Tour spokesperson.
The abode is a one-bedroom, one-bathroom space that can accommodate two guests. It is beautifully designed and features amenities such as a mini-fridge, record player, and a custom bed. The bathroom is in a renovated silo about 50 feet from the potato abode and features a soaking tub. A stay at the Big Idaho Potato Hotel also will allow you to meet Dolly, the resident cow. One reviewer said, "This was quite the wonderful experience—a dream to stay in the potato came true. We ate fries inside of the potato and hung out with Dolly in the afternoon upon arriving (she's SO sweet!). The aesthetics were so memorable and thoughtful. Fresh flowers, earplugs, everything is so pretty and nice!". Another guest agreed, saying that it's a "totally unique and memorable stay. The location is really peaceful, and all of the amenities are set up to help you truly relax. Dolly, the resident host cow, is so cute, and I enjoyed getting to brush her."
So if you're looking for a stay that is a bit different, we can say that we think this would be an excellent choice—a peaceful stay in a potato!