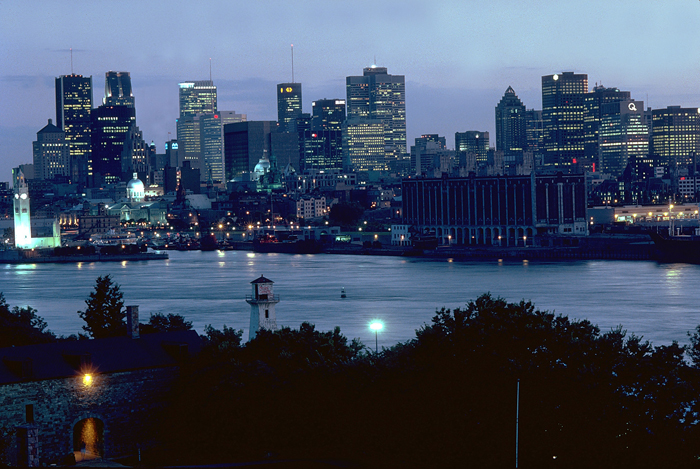 Romantic Montreal is one of the best cities in the world for couples. In the historic city center, you'll find cobblestoned streets alight with the warm glow of streetlamps; steps away, you'll find sexy, modern Montreal, with endless fine dining and entertainment options. With its lovely parks, cozy cafes, and picturesque old city center, Montreal is the perfect spot to spend a long weekend with your lover. Here are 7 keys to a romantic long weekend in Quebec's cultural capital.
Snowshoe under the light of the moon and the stars to the Top of Mount Royal. Enjoy a moonlight trek up to the top of Mount Royal by snowshoe as a Les Amis de la Montagne (Friends of the Mountain) guide leads you through the snowy woods, past the iconic cross, and to the summit of this romantic city park. Guided treks sans snowshoes are also on offer in the spring and summer. For reservations, call 514-843-8240, ext. 0
Cruise the St. Lawrence River in a Bateau-Mouche. Enjoy a magical view of the Old Port as you cruise along in a glass-covered bateau-mouche with Bateau-Mouche Montreal. Dinner cruises featuring live entertainment are offered weekly; be sure to raise a glass of champagne for a toast on the splendid open-air terrase.
Spend the night at an ice hotel. From January through the end of March, the Snow Village in Park Jean-Drapeau features a glistening ice bar where you can sip a chilly cocktail as well as an Ice Hotel. 25 igloo rooms welcome adventure-seeking guests looking for the perfect excuse to snuggle under a sleeping bag with a loved one.
Pack a picnic lunch at a farmer's market. Pack a blanket in your basket and head to Jean-Talon indoor farmer's market (7070 Avenue Henri Julien) to gather the goods for a picnic feast in the park. You'll find 300+ vendors selling everything you need and more, from fresh cheese curds to warm baguettes. Choose your picnic spot from one of Montreal's many delightful parks.
Dine in a sexy bistro featuring locally sourced cuisine. Le Local (740 William Street; Tel. 514-397-7737) is housed in a stunning heritage building and offers locally-sourced, French Canadian cuisine. Be sure to experiment with the wine list curated by renowned sommelier Elyse Lambert.
Indulge in an spa treatment at a luxe hotel. Le Spa at the Hotel Le St-James occupies what was once the vault bank dating back to 1870. Enjoy a couples massage or a mud-based Moroccan body wrap in a stone-walled chamber lit with candelabra.
Amuse your bouches with macarons. Does it get anymore romantic than an intimate tearoom nestled inside a jewelry store? Add macarons and Canadian-sourced diamonds to the mix and you'll find yourself in seventh heaven. Birk's Cafe Par Europea (1240 Place Phillips; Tel. 514-397-2468), located within the Birk's Jewelery Store, is not to be missed. The afternoon tea, offered daily starting at 3:40 p.m. is about as romantic as it gets.
Save