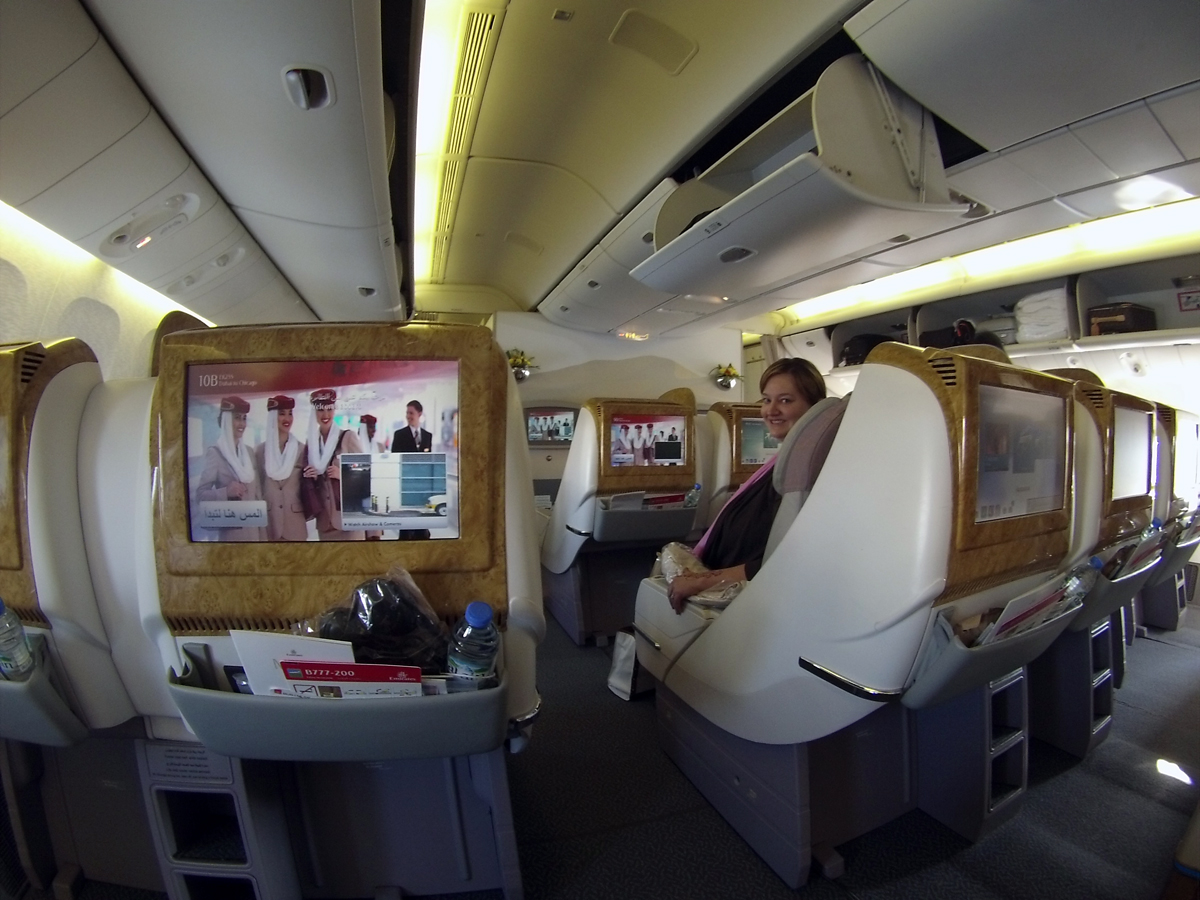 I recently took a trip to Dubai on Emirates Airlines from Chicago's O'Hare International Airport on Business Class. One of the amenities that you can expect before even boarding the plane is a private car pick up from your home, where you will be directly taken to the airport for your flight. Once we arrived at Terminal 5, we were quickly welcomed in the Business/First Class check-in and an express TSA line shortly after.
Best Perks on Emirates Business Class
While you travel on Emirates First/Business, you can enjoy access to the Swiss Port lounge at the Chicago O'Hare International Terminal. A clean, modern lounge with free WIFI connection, a self-service open bar, and a fridge full of soft drinks and beer (that is too tempting not to pass up before boarding). Within about two hours until departure, I enjoyed the fresh-made bites of sandwiches, fresh fruit and veggies, and an excellent selection of desserts.
On Emirates EK 235 Boeing 777-300, Business Class is fully equipped with headphones, eye masks, socks, a nice pillow, and a blanket. The amenity kit for men was the best and fully packed with all you can possibly need to have a fresh start at your destination.
Best Things We Ate on Emirates Business Class
The food and service were incredible. For appetizers, I had traditional local Arabic mezze, soup, cream of cauliflower and leek, and for the main course, grilled lamb rack, marinated with garlic and saffron, served with a creamy saffron sauce, roasted cherry tomatoes and shallots, and zerach rice.
Right after I was finished eating, I couldn't resist having my bed set up to lay flat to enjoy some of the latest movies or just listen to a radio station. One extraordinary detail about Emirates planes is that when cabin service is finished, and the cabin is dark, little stars will show up on the ceiling, perfect for the long flight ahead.
Closer to arrival, breakfast is served along with mimosas with Moët champagne. In between, expect to be served small bites until you are ready to land.
Overall, 15 hours on a plane just became an experience to enjoy, and Emirates is doing it right. I can't wait for Chicago to welcome the arrival of the Emirates A380 and all the extra amenities that I couldn't see; however, for now, we have Boeing 777-300 comfortable, large planes that will for sure make the long trip feel like a short one.
High-End Amenity Kits
Forget your toothbrush, deodorant, shaving cream, brush, and a few other things? Emirates has you covered. Check out his and hers amenity kits!