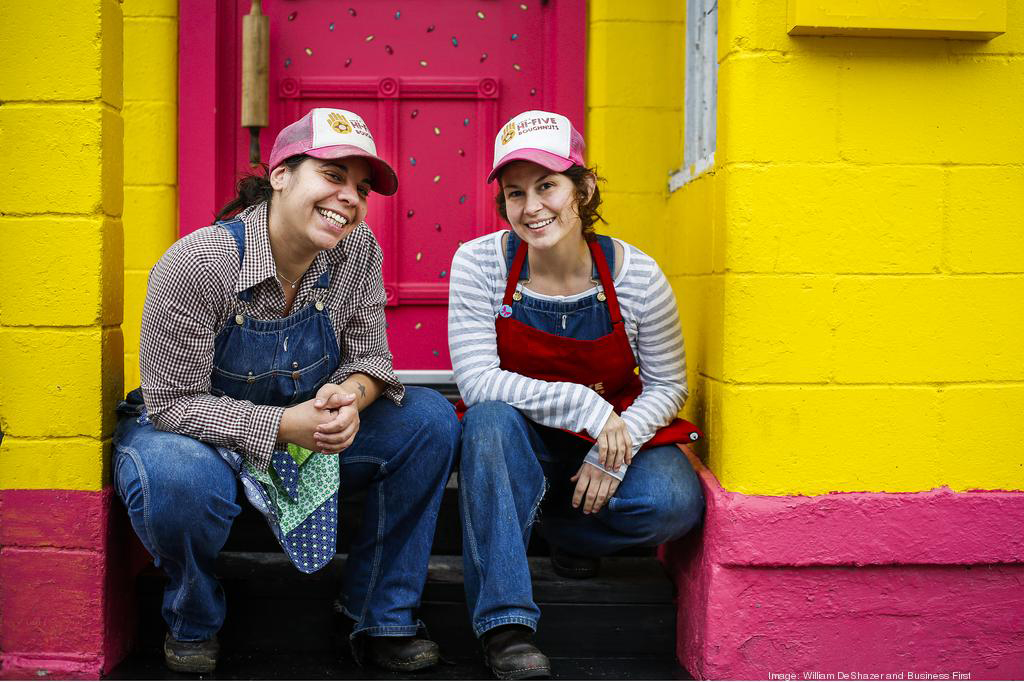 We're not dreaming much about horses after our trip to Louisville, but we are thinking about how early we can leave on a Chicago to New Orleans road trip to make a stop at Hi-Five doughnuts Louisville along the way. Owners Annie Harlow and Leslie Wilson share a passion for creating amazing doughnuts (think Bourbon-infused goodness) with unique combinations to make you come back over and over again. (Trust us, we're making plans). The team started small with a food truck back in 2013—and has since grown into a brick-and-mortar location that you can't miss when driving by E. Main St.
Lucky enough, the day we stopped at Hi-Five Doughnuts in Louisville, we ran into Leslie, and we couldn't resist asking a few questions!
What are the best places to relax in Louisville?
Iroquois Park, it's absolutely gorgeous there. I love hiking/running this park. It's never super busy, and I always feel safe! It's a hidden gem.
In Louisville, name three places you usually hang out with friends?
My friends and I love to eat, so you'll most likely find us at Kashmir for their Indian Buffet or Vietnam Kitchen for lunch. As for drinks, you can find us at the Flea Off Market sipping a Flea Tea and shopping for vintage finds.
Any crazy doughnut idea that you might think you want to create?
We definitely want to do more savory doughnuts. Possibly a unique take on a hot brown soon! Yuuuuuuuum!
Where do you find doughnut inspiration?
Everywhere. I'm always on the look for new ideas. I love going to different ethnic grocery stores. I get a lot of ideas from that.
What are your favorite weekend trips from Louisville?
Annie and I love Chicago, so we go up there a lot. I also have a family lake house in Michigan that I frequent on the regular.
What is the most requested doughnut to date?
The Bourbon-Caramel Glazed with Applewood Smoked Bacon, FO SHO!
Do you keep a count of how many doughnuts you have made to date?
No, but it's in the gazillions!
Lastly, you might start seeing more Hi-five Doughnuts around as they might begin franchising soon!