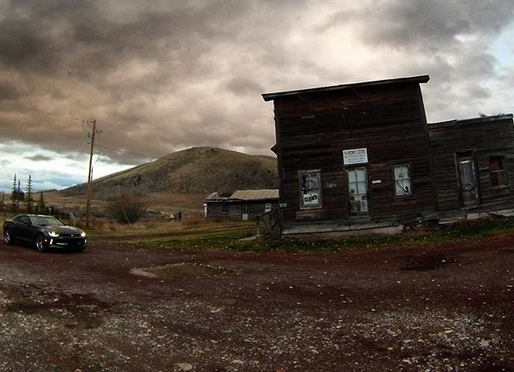 One of my favorite things to do in the summer is to take a family road trip to new destinations (we've done it all from Chicago to New Orleans to Asheville to Greenville). I will never forget our trip from Salt Lake City, Utah, to Bozeman, Montana, and all of the fascinating stops along the way. For this trip, I partnered with Chevrolet and test drove their Camaro and here are just a few places that you must stop along the way.
Utah
Brigham Young University Museum of Art
This unique triangular structure highlights around 15,000 pieces of art in its collection.
Address: 500 Campus Dr., Provo, UT 84602
Website: moa.byu.edu
The Hill Aerospace Museum
The museum showcases over 90 military aircraft from around the world on around 30 acres. It was founded as part of the United States Air Force Heritage Program.
Address: 7961 Wardleigh Rd., Hill AFB, UT 84056
Website: hill.af.mil/library/museum/
The Spiral Jetty
Renowned artist Robert Smithson created this Great Salt Lake earthwork sculpture in 1970. This 1500 foot-long sculpture was created from more than 6,000 tons of black basalt native to the site.
Address: Rozel Point, Box Elder County, Utah 84302
Website: diaart.org/sites/main/spiraljetty
Idaho
Sawtooth Scenic Byway
This central Idaho is on Highway 75 and is a must to see. There's a ton of natural attractions such as Sculpted Canyon, Redfish Lake and Galena Summit.
Address: Idaho 75 from Stanley to Shoshone, ID
Website: visitidaho.org/scenic-byways/sawtooth-scenic-byway/
Craters of the Moon National Monument
The Craters of the Moon is an otherworldly experience of lava fields. You can even take a peek inside one of the world's most extensive open rift cracks that are 800 feet deep!
Address: Central Idaho, 18 mi. SW of Arco on Hwy. 20/26/93
Website: nps.gov/crmo/index.htm
Montana
Bonneville Salt Flats
Be sure to check out this incredible spot. The Bonneville Salt Flats is a barren landscape that is truly out of this world. It's also free for visitors.
Address: Tooele County, Utah
Website: utah.com/bonneville-salt-flats
Grand Prismatic Spring
The Grand Prismatic Spring is a must-see for those visiting Yellowstone National Park. This hot spring is one of the largest in the U.S. and is one of the most beautiful.